Configure your ADT plugin (if needed)
Important
In most cases the ADT plugin finds Android SDK automatically, but sometimes it fails and shows the following prompt: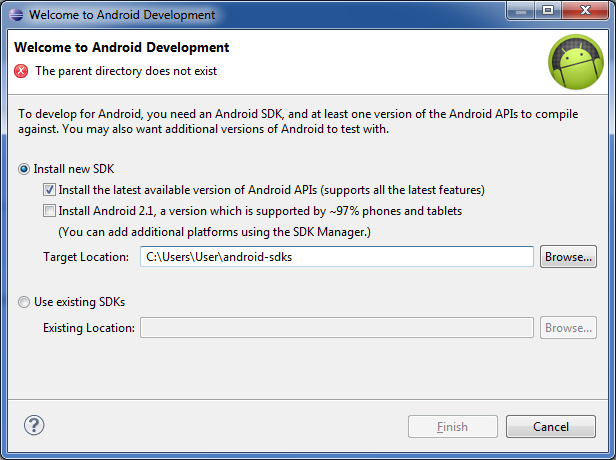 Select Use existing SDKs option, browse for Android SDK folder and click Finish.
To make sure the SDK folder is set correctly do the following step taken from Configuring the ADT Plugin document from Google:
Select to open the Preferences panel (Mac OS X: ):

Select Android from the left panel.
You may see a dialog asking whether you want to send usage statistics to Google. If so, make your choice and click Proceed. You cannot continue with this procedure until you click Proceed.
If the SDK folder isn't set you'll see the following:

For the SDK Location in the main panel, click Browse... and locate your Android SDK directory.
Click Apply button at the bottom right corner of main panel.
If the SDK folder is already set correctly you'll see something like this:

Click OK to close preferences dialog.
Import OpenCV and samples into workspace.
OpenCV library is packed as a ready-for-use Android Library Project. You can simply reference it in your projects.
Each sample included into the OpenCV-2.4.2-android-sdk.zip is a regular Android project that already references OpenCV library. Follow the steps below to import OpenCV and samples into the workspace:
Right click on the Package Explorer window and choose Import... option from the context menu:

In the main panel select and press Next button:

For the Select root directory in the main panel locate your OpenCV package folder. (If you have created workspace in the package directory, then just click Browse... button and instantly close directory choosing dialog with OK button!) Eclipse should automatically locate OpenCV library and samples:

Click Finish button to complete the import operation.
After clicking Finish button Eclipse will load all selected projects into workspace. And... will indicate numerous errors:

However all these errors are only false-alarms!
To help Eclipse to understand that there are no any errors choose OpenCV library in Package Explorer (left mouse click) and press F5 button on your keyboard. Then choose any sample (except first samples in Tutorial Base and Tutorial Advanced) and also press F5.
In some cases these errors disappear after .
Sometimes more advanced manipulations are needed:
After this manipulation Eclipse will rebuild your workspace and error icons will disappear one after another:

Once Eclipse completes build you will have the clean workspace without any build errors: